Registered Nurse
There are currently more open positions for this occupation, than qualified people to fill, so becoming a registered nurse means you'll enjoy lucrative earnings, job security, and excellent learning potential. There more than 3.1 million registered nurses in the United States.
What Do They Do?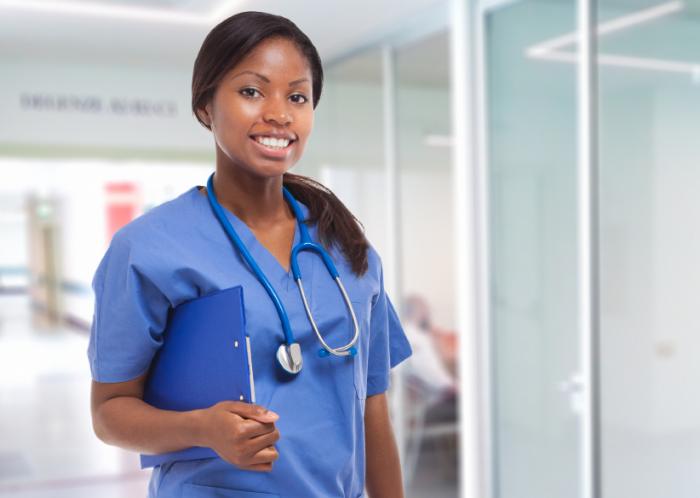 Registered nurses provide hands-on nursing care to patients in a variety of health care environments, including hospitals, doctors' office, outpatient care facilities and private homes. Registered nurses assist physicians in providing treatment to patients suffering from various medical conditions. They may educate patients and their families on disease prevention and post-hospital treatment, operate medication, supervise patient recovery and progress. They also provide emotional support and health care education to their patients' families and caregivers. Regardless of these, some nurses are able to work from home.
Risks
Violence from patients

Pain, despair, and inconvenience can lead to violence. One of the keys to avoid this is to step away and quickly call a colleague and/or security.

Infection

Stay clean, wash hands and/or arms, stay alert, and use safety guards, like gloves, to protect against the patients getting sick and self-contamination. Also nurses must be mindful around hazardous items(gases, liquids, sterilants, etc.), especially if they are pregnant.

Physical Strain

It is recommended to use mechanical lifting devices when lifting people, in order to avoid strain and injury. It is key to not downplay serious injuries. Some of your complaints can change certain issues within the workplace, for the better. A safer environment is beneficial for everyone.

Overtime

Sometimes overtime is mandatory if a patient is in critical condition. Some hospitals cannot afford to risk being understaffed, regarding the health of patients, in case a staff member must suddenly leave. Overtime isn't as mandatory as it was before but sometimes nurses are asked to voluntarily pitch in after a shift is over. In this case, rest for the nurse is important. Be sure to be ready for situations like this by resting and recharging.
Salary Range
As of now, the median salary range for a registered nurse is around $66,640. The best-paid 10% of RNs made more than $98,880, while the bottom 10% earned less than $45,880.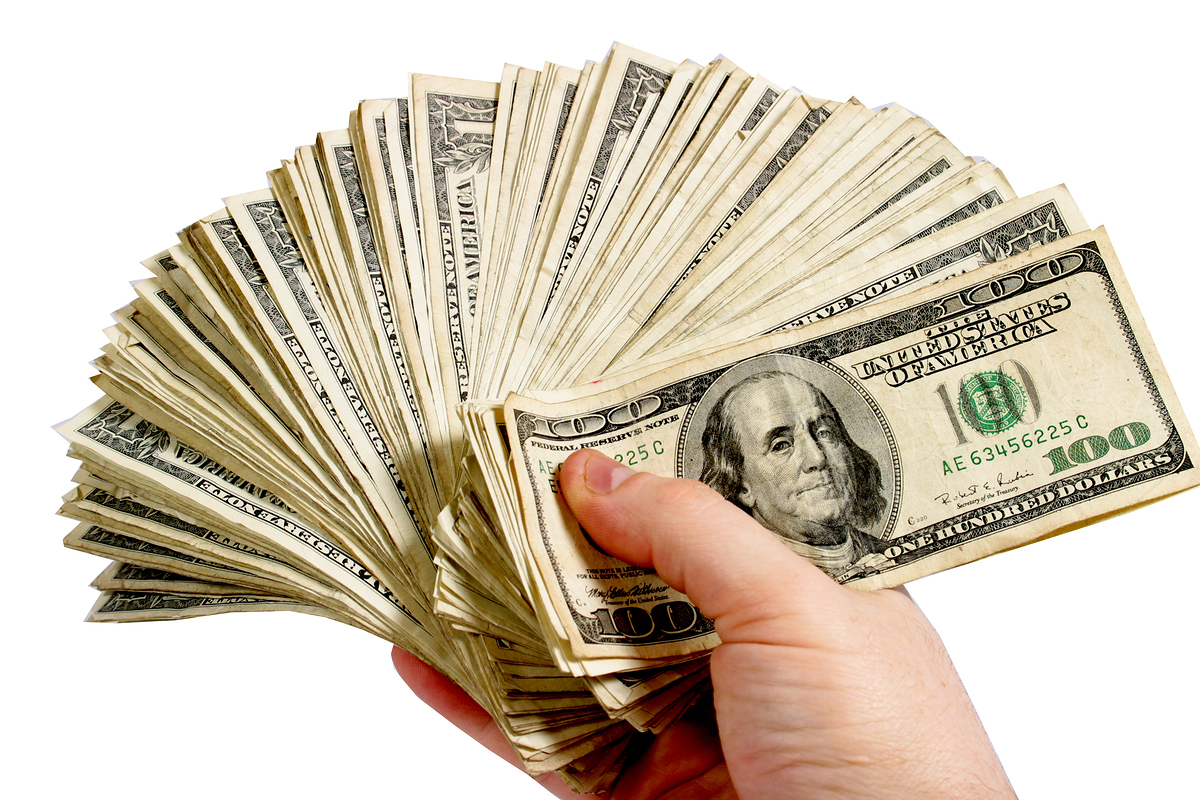 Companies That Hire
Usually medical companies hire registed nurses like, Blue Cross Blue Shield of Carolina, Kaiser Permanente, Fresenius Medical Care North America, and more around the country, but companies that require medical assistants would hire nurses also.
Work and Education Requirements
Work
RNs can gain the experience required for their positions through three educational pathways. Candidates can earn a two-year associate degree in nursing from an approved program at an authorized community college, they can earn a nursing diploma from a three-year program at a teaching hospital, or they can earn a bachelor of science degree in nursing from a traditional four-year college or university. The diploma program typically involves more hands-on experience than the two academic degree programs, while the BSN program typically includes more studies in non-nursing fields than the other programs. Registered nurse candidates must take and pass the National Council Licensure Examination - RN before they can be licensed to practice by their local state board of nursing.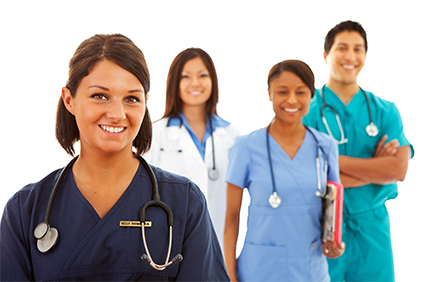 Education
The approximate time required in schooling, to become a registered nurse, is about 6-7 years. Licensing requirements vary by state, but all licensing boards require RNs to pass the National Council Licensure Examination- Registered Nurse(NCLEX-RN) before practicing in the profession. The NCLEX-RN covers four basic categories, including psychosocial and physiological integrity, healthcare environment safety and health promotion. Some states and employers require RNs to participate in continuing education. RNs who graduate from Bachelor of Science in Nursing programs(BSN) may see greater promotional opportunities than associate's degree or diploma holders. These 4-year degree programs are generally more comprehensive and focusing on human development and behavioral sciences applicable to the profession. BSN program curricula are typically divided into two parts. The initial two years focus on general science instruction, such as courses in physiology, organic chemistry and psychology. In the final two years of study, students gain instruction in nursing practice and may study pediatrics, chronic disease, mental health nursing and supervised clinical experience in health care facilities. Associate's degree programs(ADN) focus on technical applications of nursing, and instruction takes place in both classrooms and clinical settings. ADN programs are designed to last two years; however, the American Nurses Association(ANA) reports that many programs took students three or more years to complete. While these degree programs are the most widely available training programs, the ANA states that many RNs who hold ADNs return to school to earn at least bachelor's degrees. Another education option is the Diploma in Nursing program. These programs are the least-common of all nurse training programs and are administered in health care facilities. They consist of three or more years of classroom and clinical instruction. As with ADN degree holders, many RNs with diplomas eventually pursue undergraduate degrees in nursing.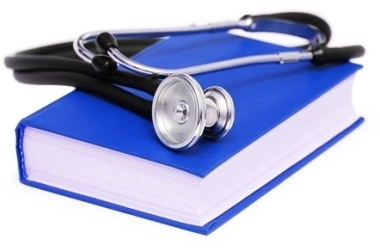 Other Skills Needed
There are certain skills and characteristics that will help you succeed in the nursing position.
Effective Communication

As a nurse, you're on the frontline of care. You'll often find yourself communicate critical information from a physician to a patient. You will also need to be able to host open dialogue with patients and their families so they fully understand their diagnosis, medication and any other medical concerns. The people you may speak with could be concerned or uncooperative patients, busy doctors and everything in between.



Flexibility

As a nurse, your schedule is ever-evolving. Last-minute changes constantly keep you on your toes while you juggle heavy workloads, paperwork, physicians and patients' families. An ability to adapt to the busy schedule, as well as alternative ways of problem solving, is essential for a nurse's success.

Critical Thinking

A sharp and critical mind is needed to excel in the nursing field. Nurses must be able to assess a situation and quickly make crucial decisions. In nursing, there are often multiple options for treatment, which means critical thinking is essential for analyzing the situation and determining the best solution.

Desire To Learn

Earning a nursing degree doesn't mean you're no longer a student. Because the field of medicine is always changing and evolving, the best nurses are the ones who continue to question, explore, learn and develop throughout their entire careers. Asking questions is the smart thing to do.

Attention to Detail

When you have a lot on your plate, paying attention to miniscule details is important in the nursing profession. For example, nurses must document everything they do on patients' charts, listen closely to their description of symptoms, ask the right questions and remember to bring medications at appropriate times. Addressing the small details is always important because one small slip-up could become a fatal mistake.

I am interested in the medical field because I enjoy helping people. It would be so great to learn more about health and the do's and don'ts. Then I'd be able to use my knowledge to help people recover from their ailments or negative conditions, and even help families everywhere. It'd also be awesome if I found or created a cure for some specific illness or disease.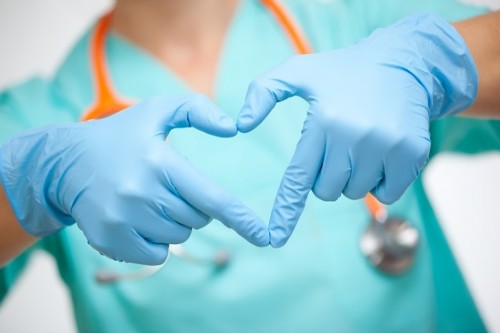 Back